d1-core DAC or DAC/streamer
The d1-core is a more affordable Totaldac DAC but also very optimised to be very musical and natural sounding.
Some parts are optimised to give a better performance/price ratio but it still uses exactly the same ladder resistors and the same FPGA as the other Totaldac DACs.
It can integrate the streamer board for a direct network use, to listen local files or for streaming use.
This makes the d1-core an incredible performer in its price range and up.

"The DAC sounds just fantastic. It's one of the most natural-sounding, almost vinyl-and-valve like converters you can get for the money and beyond." Alan Sircom, hi-fi+
"The Totaldac d1-core is the most fluidly organic digital component I've experienced…"
"In terms of tonal purity, extraordinary beauty and effortless musicality the Totaldac d1-core has eclipsed several higher-ticket/high profile digital units I've reviewed recently."
"My system sang, ergo, an easy Blue Moon Award. Simply put, I loved it!" Edgar Kramer, Senior Reviewer, 6moons
"The response is one of the most balanced and linear that we heard from a DAC at any price.
Isn't it the secret of the musicality of Totaldac DAC in general and specifically of the d1-core?
One thing is sure, the d1-core never makes it too much or too spectacular, it relies first on exactness.", haute fidélité
"...like never before... Diapason d'Or golden prize." Diapason
"The Totaladc d1-core creates highly detailed sound which, like vinyl compared to digital files,
is naturally fluid and smooth to the ear, reproducing the three-dimensional spaces.", CODE magazine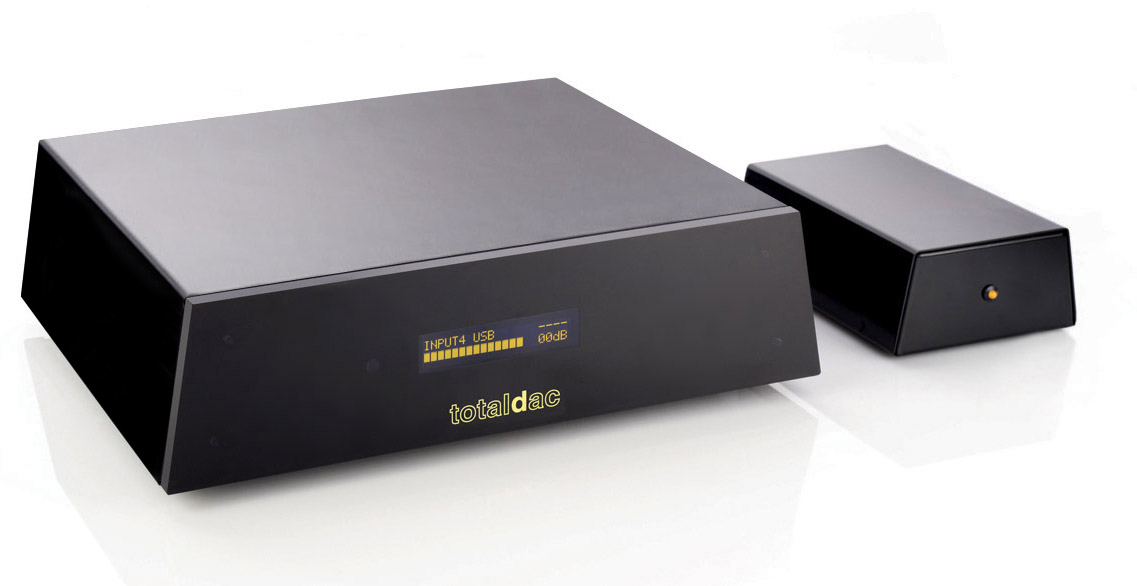 Specifications:
-192KHz asynchronous Xmos USB, optical, RCA and AES-EBU digital inputs, selectable from a remote control.
-44.1KHz, 48KHz, 88.2KHz, 96KHz, 176.4KHz and 192KHz, 16 to 24 bit formats supported on all inputs except 96KHz max for optical input.
-as an option, DSD (DoP standard) supported on the USB, AES-EBU and spdif inputs.
-embedded custom clock with anti-jitter FIFO memory.
-3.0Vrms max RCA. 6.0Vrms max balanced XLR output.
-volume control, adjusted by a remote control and an OLED display, works for all inputs, not only USB.
-phase polarity selected by remote control.
-non-oversampling DAC compensation filter activated or disactivated by remote control.
-display switched off by remote control or automatic.
-R2R DAC technology using 0.01% VAR Bulk Metal® Foil resistors from Vishay Foil Resistors, 100 resistors used.
-solid state output stage without capacitor in the signal path.
-external power supply to minimize the noise on the embedded preamp.
-aluminium and PMMA enclosure.
-power consumption 18W.
-DAC dimensions: height 110mm, width 360mm, depth 290mm.
-power supply dimensions: height 65mm, width 122mm, depth 180mm.
-weight: 4kg.
Available options:
-streamer option. The software is the same as the d1-streamer, RoonReady certified.
-DSD (DoP) option.
-silver massive aluminium front panel.
-115V power option.
-BNC coaxial digital input instead of RCA.
-Bass boost.
-2-way or 3-way active crossover, d2-core and d3-core.
-live-power grade power supply.

1KHz -120dBFs sinewave 20Hz-22KHz spectrum: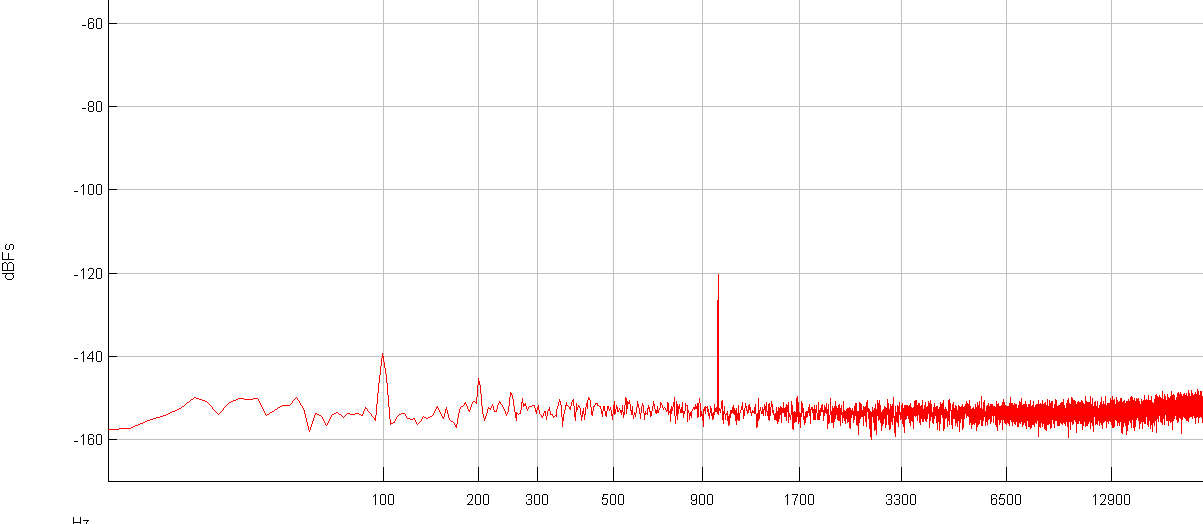 The measurement is done on the RCA output with USB as source, from a standard computer plugged on mains, in "display OFF" mode.
The noise floor is very low.


mobile phone: +33 6 18 03 14 08 (European time zone, Whatsapp compatible)