d1-seven DAC or DAC/streamer
The d1-seven DAC has been created for the seven-year anniversary of Totaldac.
It was made to be the far best sounding one-box DAC in the Totaldac range together with its brother the d1-direct, making them very special in the Totaldac range.
The d1-seven has 3.2V RCA ouputs and 6.4V XLR balanced ouputs for the best versatility, to be connected to all preamps, all integrated amps but also directly to most power amps.
This DAC can also integrate the internal streamer option for a network use.
And don't forget, your d1 as every d1 DACs can be upgraded to a d1-seven!

"Upper Echelon Products award" Matej Isak, MONO&STEREO
"Here are my first impressions: Wow
The d1-seven is by far one of the most stunning DACs I've had the pleasure to hear my music through.
The totaldac d1-seven excels at reproducing music's life, energy, and delicate nuance.
Once seated, there's a lock-in into the space and time of the recording that is at once addictive and entrancing.
Every aspect of a recording-space, sounds, movement, texture, color, meaning- are conveyed with an uncanny realness.
Come to think of it, rightness may be the better word.
If you want to hear your file-based music at its best, at the peak of its acoustic power, I recommend the totaldac d1-seven as your guide." Michael Lavorgna, AUDIOSTREAM
"The totaldac D1-seven offers an uncanny ability to convey musicís most intimate details in a total package of stunning realism. In other words, things sound like they sound in real lifeóall rich, glorious, intimate, and stunning. Whatís more, music unfolds into a sound image that is Barn-filling, of course this is recording-dependent, in such a way as to invite us into the performance, outside space and time (thatís a big deal)." Michael Lavorgna, twitteringmachines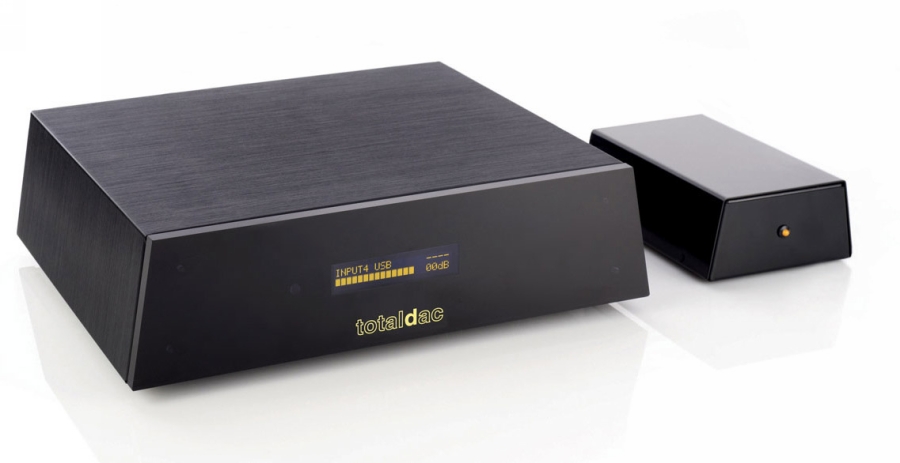 -192KHz asynchronous Xmos USB, optical, RCA and AES-EBU digital inputs, selected from a remote control.
-44.1KHz, 48KHz, 88.2KHz, 96KHz, 176.4KHz and 192KHz, 16 to 24 bit formats supported.
-as an option, DSD (DoP standard) supported on all inputs.
-embedded custom clock with anti-jitter FIFO memory.
-3.2Vrms max RCA, 6.4Vrms max XLR analog output. The d1-seven has no headphone output by default.
-volume control, adjusted by a remote control and an OLED display, works for all inputs, not only USB.
-phase polarity selected by remote control.
-non-oversampling DAC compensation filter activated or disactivated by remote control.
-display switched off by remote control or automatic.
-R2R DAC technology using 300 pieces of 0.01% VAR Bulk Metalģ Foil resistors Vishay Foil Resistors.
-class A discrete transistor output stage.
-external power supply to minimize the noise on the embedded preamp.
-aluminium and PMMA enclosure with massive pure copper antivibration plate.
-power consumption 15W (19W with the streamer option).
-DAC dimensions: height 110mm, width 360mm, depth 290mm.
-power supply dimensions: height 65mm, width 122mm, depth 180mm.
-weight: 7kg.

Available options:
-DSD (DoP) option.
-silver massive aluminium front panel.
-115V power option.
-BNC coaxial digital input instead of RCA.
-2, 3, 4 way active crossover or more, by associating several DAC boxes.
-Bass boost.
-live-power grade power supply.
Silver option: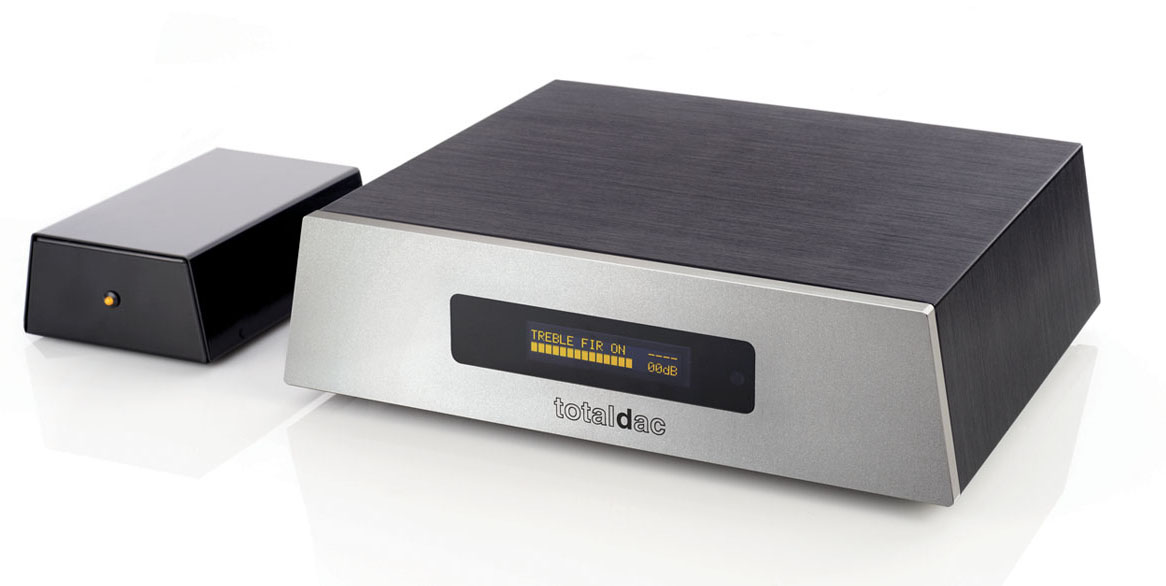 The new remote control supplied with all d1-seven DACs:


mobile phone: +33 6 18 03 14 08 (European time zone, Whatsapp compatible)