d1-single-mk2 DAC or DAC/streamer
The d1-single-mk2 is one of the first released Totaldac DAC. It uses one R2R ladder DAC per channel and uses a discrete class A transistor output stage which can drive directly a headphone.

"d1-single-mk2 is an extremely good DAC. It delivers a precise, resolving sound, but also slightly warm and vivid.
It is very clean and differentiates recordings really well.
Vincent's DAC though sounded great when combined with my Soulution 710 power amplifier.
Was it just a coincident that these two devices worked so well together?
I don't know, but this power amp usually sound better paired with active preamps.
This time, the elimination of the Ayon Spheris III from signal's path resulted in a more direct sound.
The leading edge was faster and clearer. The front of the soundstage was brought closer to me and the back even further away, which created the effect of extended soundstage." Wojciech Pacula, High Fidelity
"totaldac + Roon = Happiness"

Michael Lavorgna, AUDIOSTREAM (Stereophile)
"What an enjoyment. A beast of musicality."
Maximum note 8/8 for 5 sound qualities. Note 7/8 for the two other sound qualities. Dominique Mafrand, haute fidélité, about the mk1
"The degree to which it bested what I knew (including APL Hifi, Audio Aero, dCS, EMM Labs, Esoteric, Weiss, Meitner and Zanden) was unexpected" Srajan Ebaen, 6moons, about the mk1
"Vincent's product sounds very refined, balanced, coherent, neutral and is very analogue overall, lifelike, mildly soft and pleasant.
It doesn't put additional light on any particular aspect in music, neither it elevates soundstage width, nor saturation or dynamics.
It doesn't tinker with contouring or tonal balance. It simply isn't showy in any regard." Dawid Grzyb, Hifi Knights and 6moons
"Recapturing all I think that this Totaldac has marked a before and after on the way I see the DAC world,
reaching levels of naturalness that I only could hear on some top vinyl systems.
This is the perfect DAC model to encourage all vinyl lovers to explore and even change the way they listen to music.
I am convinced that many of them will not return back for sure." Yago, Old & New Sound
"Beyond exciting"
"Totaldac D1 integral is the truly talented one in hifi world´s Idols.", Jussi Arvio, Hifimaailma Magazine, Finland
"If I had to use one word to describe the sound, I'd have to say human.
It reproduced the electronic signal in an organic, tactile, and musical way that I often shook my head at in how similar it was to vinyl.
It doesn't sound like analog, it just sounds analog, albeit different.", Rafe Arnott, part-time audiophile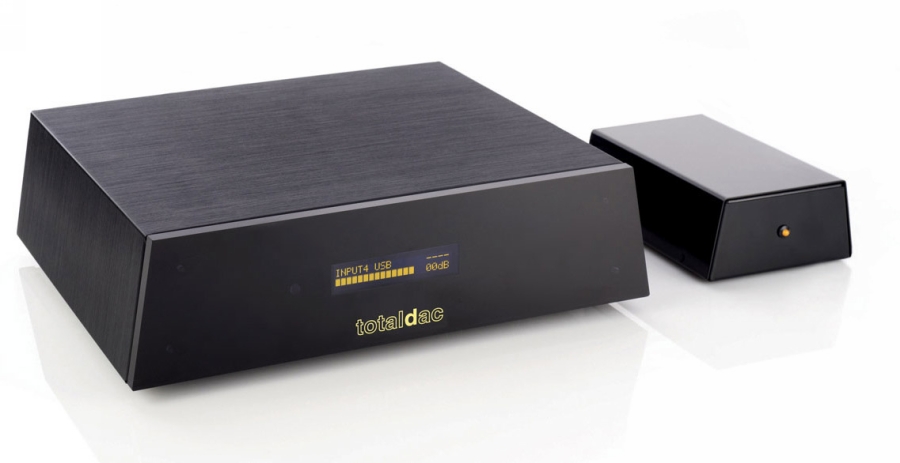 -192KHz asynchronous Xmos USB, optical, RCA and AES-EBU digital inputs, selectable from a remote control.
-44.1KHz, 48KHz, 88.2KHz, 96KHz, 176.4KHz and 192KHz, 16 to 24 bit formats supported.
-as an option, DSD (DoP standard) supported on all inputs.
-embedded custom clock with anti-jitter FIFO memory.
-3.0Vrms max RCA and 32ohm-600ohm 3.0Vrms max headphone amplifier. The XLR connector carries only the un-balanced signal, so it is equivalent to the RCA output.
-volume control, adjusted by a remote control and an OLED display, works for all inputs, not only USB.
-phase polarity selected by remote control.
-non-oversampling DAC compensation filter activated or disactivated by remote control.
-display switched off by remote control or automatic.
-R2R DAC technology using 0.01% VAR Bulk Metal® Foil resistors from Vishay Foil Resistors, 100 resistors used.
-class A discrete transistor output stage.
-external power supply to minimize the noise on the embedded preamp.
-aluminium and PMMA enclosure with massive pure copper antivibration plate.
-power consumption 18W.
-DAC dimensions: height 110mm, width 360mm, depth 290mm.
-power supply dimensions: height 65mm, width 122mm, depth 180mm.
-weight: 6.5kg.
Available options:
-DSD (DoP) option.
-silver massive aluminium front panel.
-115V power option.
-BNC coaxial digital input instead of RCA.
-d2-single-mk2 and d3-single-mk2, 69 bit 2 way or 3 way active crossover.
-Bass boost.
-live-power grade power supply.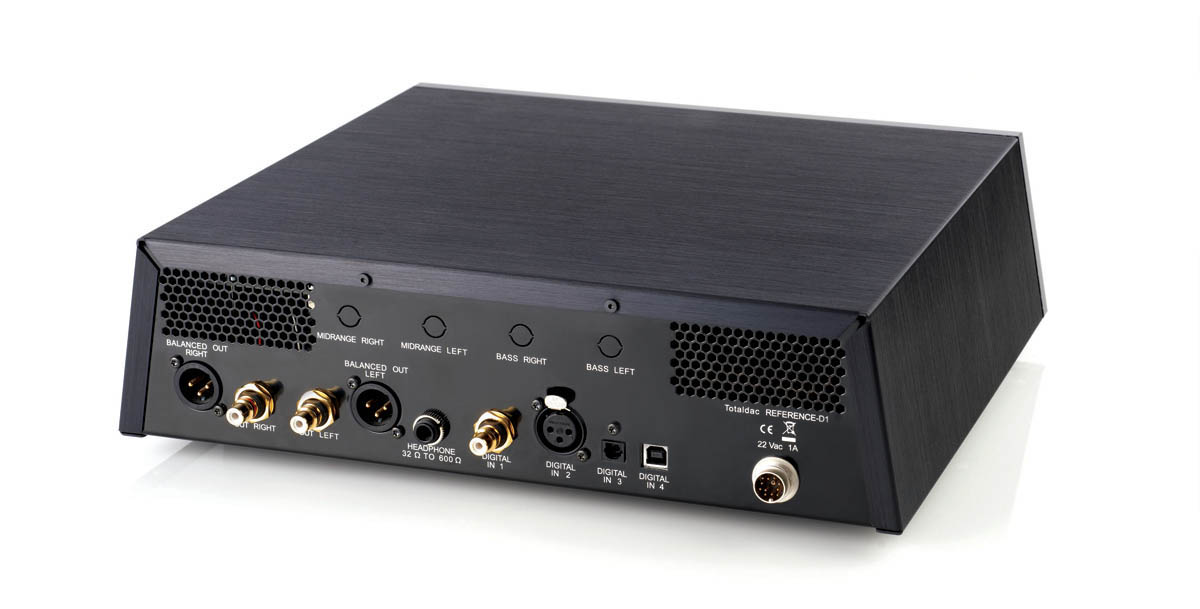 Silver option: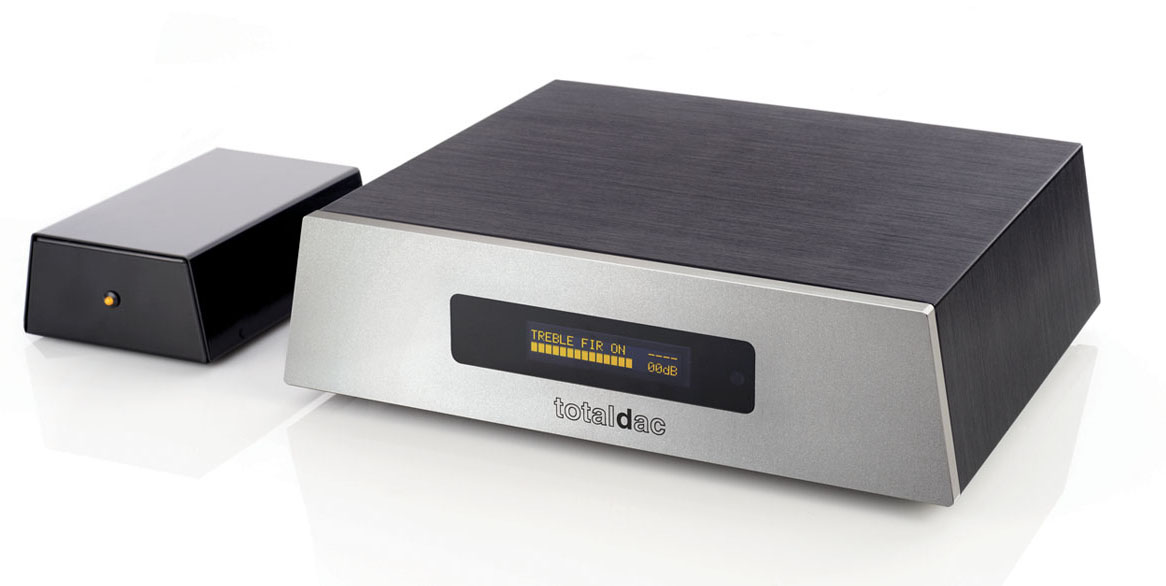 1KHz -110dBFs sinewave 20Hz-22KHz spectrum: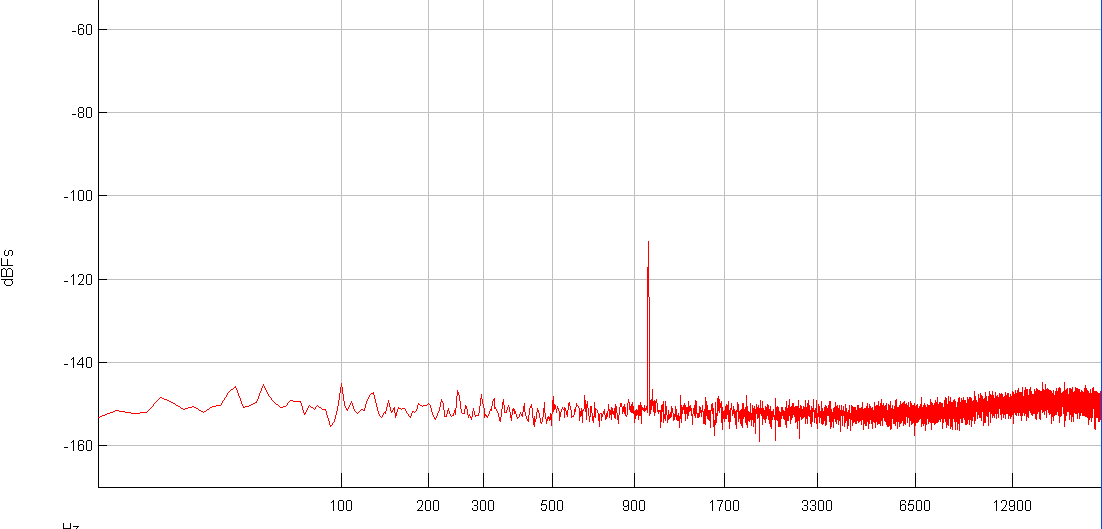 The measurement is done with USB as source, from a standard computer plugged on mains.
The noise floor is very low especially in the 200Hz-4KHz region where the ear is very sensitive.



mobile phone: +33 6 18 03 14 08 (European time zone, Whatsapp compatible)