Écoute
Les écoutes des DACs sont possibles chez vous pendant 14 jours, le DAC peut être expédié pour essais contre caution et paiement d'un forfait port et emballage.

Totaldac était aux salons hifi de Munich 2018 dans plusieurs salles:

-une salle de 45m2 au salon HIGH END au MOC, Hall 4, salle W04, avec en écoute:
Totaldac RoonReady d1-server and reclocker
Totaldac optimised server/NAS for Roon or for UPNP/DLNA
Totaldac d1-twelve DAC
Totaldac d1-driver, a volume-free preamp
Totaldac/Bibacord AES-EBU cables
Totaldac USB GIGAFILTER and ethernet cable/filters
Totaldac d150 speakers and their subwoofers
Absolare 845 push pull monoblocs with Elrog tubes
Echole Limited Edition interconnect cables, speaker cables and power cords
Shunyata Hydra Triton V3 power distributor and Sigma NR power cords
Lab Gruppen FP7000 amplifier (made silent) for the subwoofers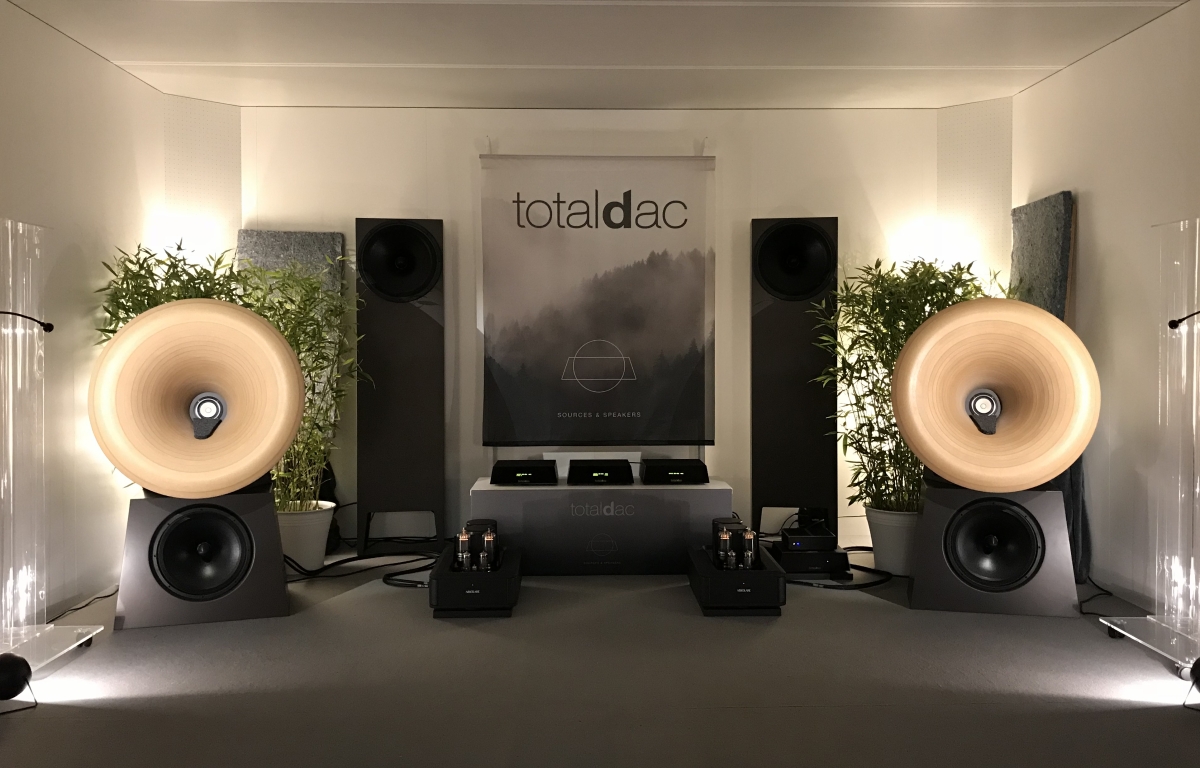 "I was impressed by both of them. The d150's sound was relaxed very wide open and delightfully coherent.
I was immediately impressed by how smooth, vivid, and 3-dimensional the sound was.
Think big, full, open, and exceptionally coherent. I would have nominated Brient's system for best sound at show,
but is was only the morning of my first day, so I moved on." Herb Reichert, Stereophile
"TotalDAC had secured one of the few ground-floor super cabins to make very good sound with Absolare monos.
On flavour, the Analog Domain designer's private system had been very visceral and gripping.
Vincent Brient's transplanted from France for the occasion was ultra spacious and elegant.
Anyone who declares an absolute sound hasn't yet lived long enough. There are many lenses of perspectives or moods to experience playback through.
Premium executions of these are all equally valid. This was one of those." Srajan Ebaen, 6moons
"The outcome was impressive to say the least" Dawid Grzyb, HifiKnights
"This was a great sounding system. We will be visiting Vincent shortly for a full and proper demonstration of this system." HifiPig
"I've had limited time at the show, but enjoyed very involving combo. Way to go and present system." Matej Isak, Mono&Stereo
"His DAC remains the most melodic." AUDIOHUB.GR
-Absolare room, on Rockport speakers.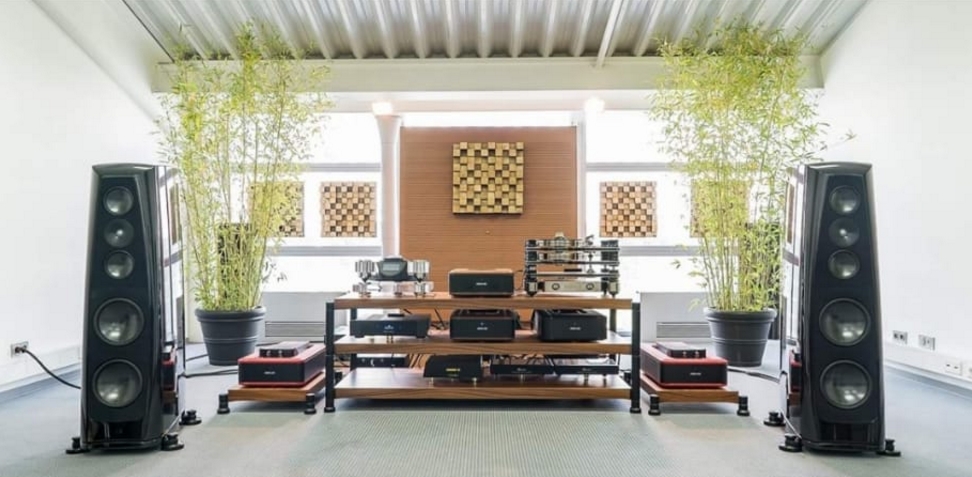 "Best Sound (cost no object). There was a complete lack of grain and glare;
the presentation had utterly natural timbre and tremendous ability to pull me into the music rather than to think about the sound.
A terrific system expertly set up." Robert Harley, the absolute sound
"listed in "MY FAVORITE SYSTEMS"" Ron Resnick, MONO&STEREO
"Possibly best in show." hifiwigwam
-une salle avec: Totaldac GIGAFILTER + reclocker + d1-seven, ampli Holton Audio, câbles TelluriumQ et enceintes Soulsonic HOLOGRAMM-X.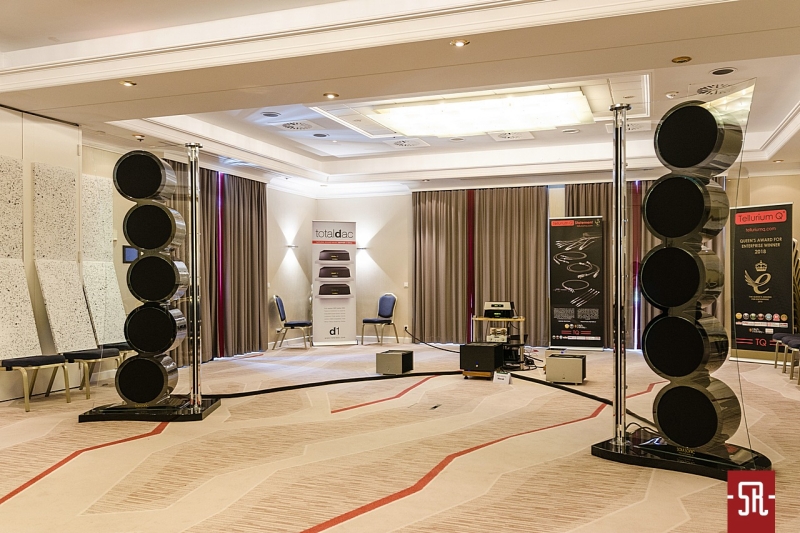 "it played phenomenally, that is, full of concert swinging sound." Soundrebels.com
"The sound in this room was something else displaying effortless power and a concert hall-like experience." Hifipig
-la salle Focal, avec un DAC d1-seven + GIGAFILTER USB sur casque Utopia.

Les DACs, reclockers, serveurs et câbles peuvent aussi être écoutés dans 2 auditoriums et sur casque Focal Utopia dans les locaux Totaldac près de Rennes: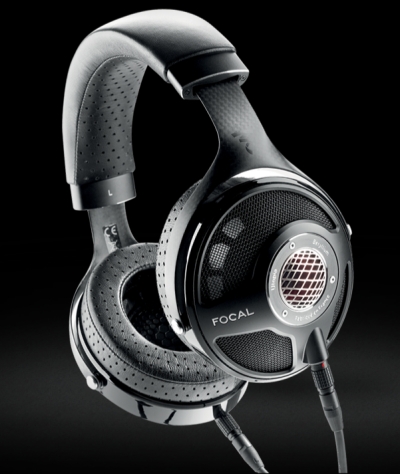 Totaldac était au salon de Munich 2017:
-Totaldac d1-server + d1-twelve-SE
-ampli Absolare Integrated
-cables Totaldac, Echole et Bibacord
-enceintes d150 + subwoofers
-Un d1-integral-headphone drivant un casque Focal Utopia.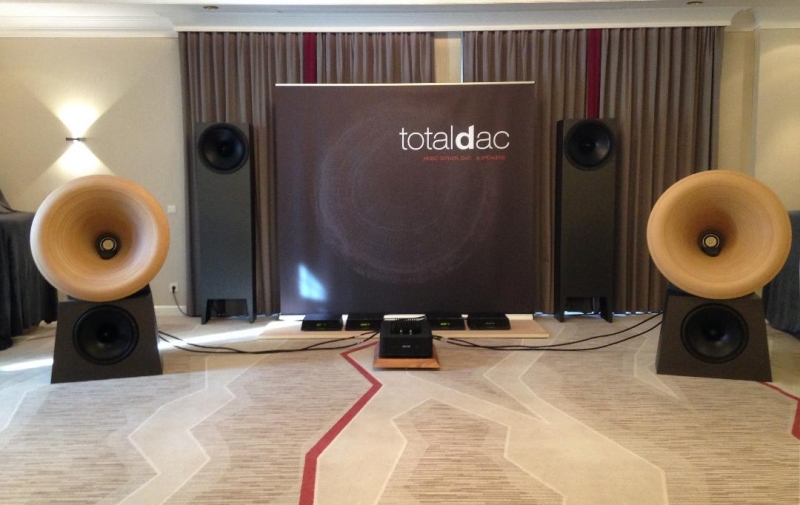 Une source Totaldac était aussi utilisée dans les 4 autres salles suivantes:
-Absolare amplifiers and Echole cables, demoing Totaldac d1-server + d1-twelve-SE
-Engstrom&Engstrom amplifiers and Bibacord cables, demoing Totaldac d1-server + d1-twelve-SE
-VinylSavor amplifiers from Thomas Mayer, demoing Totaldac d1-server + d1-core
-Voxativ
"The totaldac sound, in my experience, is one of delivering the musical event as it was originally recorded, and here in Munich it seemed that
musical event was taking place in the room with me – no small feat in any sense – and considering it was a ballroom-sized space it made the
accomplishment all the more impressive. Brient has a loudspeaker design that when paired with his bespoke DAC/streamer/Server sources, and
an uncoloured amplifier is capable of utterly transporting the listener to the moment the track was recorded." Rafe Arnott, part-time audiophile.com
Amongs the best rooms according to Absolute sound, 3 used a Totaldac DAC as digital source: Absolare/Rockport, Voxativ and Engstroem/Marten. the absolute sound
Totaldac était au salon THE show in the USA 2016 dans 2 salles:
-"Best Sound" the absolute sound
Totaldac était au salon High End de Munich 2015 dans 4 grandes salles:
-"Best Sound" AVShowrooms about Voxativ room
-"BEST IN SHOW" perfect sense
-"was for sure one of the highlights at the show for both the sound experience and what they represent" Mono&Stereo
-"My second-favourite sound of the show (after the ultra expensive Living Voice Vox Olympian room).
It sounded terrific to combine "analog" warmth with "digital" detail in a very rare balance whilst remaining domestically acceptable" Srajan Ebaen, 6moons
-"Belonged to the best that the show had to offer." Hifistatement (about Kaiser speakers room)
-"The system sounded lovely at low volume" Stereophile
-"So wonderful and truly relaxing Chopin Nocturnes on the big Fazioli grand piano." Hifistatement (about Goebel speakers room)
-"Last year Göbel had the best sound of the show, and sure enough this year the sound was even better!" MoizAudio
-"A highlight of course the installation of high-end Goebel, as always sounded for no apparent, clean, natural and refined aesthetics that exudes quality effort. Without doubt the best ..." hifilive.es
-"a sound that was very delicate and detailed at lower levels" the absolute sound
-"4 boxes of source gear is winning right" inearspace
-"uncanny sense of realism, ultra-natural" Stereotimes
-"Was sitting a while, it was lovely relaxant to get dabbing his ears with some great sounding here." nomono

salle E115
drive: Totaldac d1-server et CD Jadis Calliope
DAC: Totaldac d1-twelve
ampli: Analog Domain
enceintes: Göbel High End
salle E226
drive: Totaldac d1-server et CEC TL3N
DAC: Totaldac d1-dual
amplifier: Analog Domain
câbles: Absolue Créations
enceintes: Silberstatic
salle F219
drive: Totaldac d1-server
DAC: Totaldac d1-twelve
pre + amplifier: Engstrom&Engstrom
câbles: Bibacord
enceintes: Kaiser Accoustics
salle E222
drive: Totaldac d1-server
DAC: Totaldac d1-tube-mk2
Totaldac était au salon de Munich 2014 sur un système composé de:
Totaldac d1-server + DAC d1-twelve, enceintes Kaiser, ampli Engstrom&Engstrom, cables Bibacord
-"The DAC has a resolution that is unparalleled" Hifistatement
-"Once again, I was as impressed with the sound of the TotalDAC room as I was this same time last year.
The system produced a beautiful soundstage with an analog-like sound from a digital source." Stereotimes
-"The most analogue sounding digital? The TotalDAC! It sounds amazing." Parttimeaudiophile
-"The latter had my vote." "A super monitor I got to hear and very much enjoy was the Kaiser Acoustics Kawero! Chiara." Srajan Ebaen, 6moons
-"Best sound" highfidelity.pl
Totaldac au salon de Munich 2013:
-"Best of Show" listed. "The system sounded fantastic on concert grand—very natural with superb timbre and scale.
It was also sensational on trumpet, choir, and organ." The absolute sound
-"I got to hear the d1-tube DAC as well as the d1-dual DAC on separate occasions and they both made delicate, relaxed, and authoritative music in this system.",
"from the bit I heard, I'd certainly like to hear more" Audiostream (Stereophile)
-"I was very impressed with the sound... open, dynamic and uncompressed sound that was naturally presented much like live music" StereoTimes
-"Ein höchst interessantes Produkt ist der totaldac" Hifistatement
-"One of the standout rooms for me. My notes say beautiful! Definitally a sound I could live with" HifiPig
-"Definitely one of the best sets of the High End 2013" Audioreview.nl

téléphone bureau: 02 90 02 11 39
téléphone portable: 06 18 03 14 08